Logistic
"At the pharmacy"
Language: Romanian/ Immigrants` first language
Participants: Immigrants living in local communities with basic speaking ability in Romanian
Location: indoors; conference room equipped with chairs
Tools: four leaf clover template (Attachment 1), parts of transcript "At the pharmacy" VR movie dialog (Attachment 2), wooden sticks, body parts and illnesses/symptoms cards (Attachment 3), presentation with photos/ movies on Romanian health system, projector and screen, VR glasses, markers
Duration: 90 min
Video Title: "At the pharmacy" video A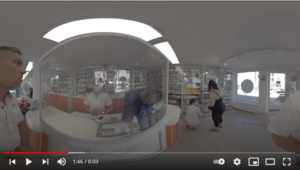 THEORETICAL FRAMEWORK
Theoretical Framework:
short introduction to health system, services and facilities such as pharmacy
Goals:
General:
To build knowledge about and familiarise with Romanian health system

To familiarise with health issue vocabulary

To foster emotional security among immigrants
Specific goals` taxonomy according to Bloom
A) Cognitive goals:
to learn about Romanian local health services and facilities

to educate about talking with pharmacist on health issues
B) Emotional goals:
to ensure emotional security in terms of using local health services

to feel welcome in local community
C) Psychomotor goals:
to develop readiness to participate in local life
Learning Outcome:
acquaintance with local health services and facilities
Methods Used:
discussion, active learning methods, VR movies, drama
Trajectory of the teaching process
Introduction:
The following teaching session aims to introduce immigrants local environment and the pharmacy services. During the session participants will be familiarised with vocabulary and routines related to using the pharmacy services. Throughout VR movies they will immerse into Romanian pharmacy and join meeting with pharmacist.
Warm up game: "Four leaf clover" activity.
Presenter divides the group into teams of 4-5 participants (from different cultural background if possible) and organises separate space to work for them. Each team receives a "four leaf clover" template at big format (Attachment 1) and has a task to complete each leaf as indicated:
1) Leaf one: write down one thing that all of you like to eat
2) Leaf two: write down two things that all of you are scared about
3) Leaf three: write down three things that all of you have never done
4) Leaf four write down four things that all of you like to do
After 10 minutes participants share their clovers with group.
Activity Title
Activity Description
Before video watching

Presenter gives short presentation on basics of Romanian health system - shows and discuss sample documents, such a prescriptions, referral to a doctor, sick leave.

Before watching the VR movie "At the pharmacy" presenter should make sure all participants understand the following vocabulary in Romanian:
Treatment
Medicines
Symptoms
Pain
GP (General Practitioner)
Antibiotics
Prescription
Presenter welcomes any questions and discussion.

Video watching

Watching the VR movie

During watching the video "At the pharmacy" participants should focus on different health issues that are discussed with the pharmacist.
After watching the video participants are asked to write down as many health issues as they could remember.
Participants share how understandable the video was: what was difficult to understand? What was difficult to remember? What did help them to understand the video?

Presenter welcomes any questions and discussion.

After watching the video

Understanding the video

Presenter divides the group into 3 teams (with participants from different cultural background if possible) and organises separate space to work for them.

Presenter hands to each team part of the dialogue transcript "At the pharmacy" VR movie (Attachment 2):
1) Team 1: part 1
2) Team 2: part 2
3) Team 3: part 3

Presenter delivers to each group wooden sticks and asks to underline all vocabulary that is new and incomprehensible to them. After that participants in teams write down all new words/ expression related to health issues – one word/ expression on one wooden stick.

Teams present the vocabulary. One person form the team shares one single word/ expression and puts it in the middle – any other team that has chosen the same vocabulary put wooden stick next to it. Presenter explains what it means (supported by presentation/ videos/ pictures if needed).

After finishing the task presenter makes sure all vocabulary is understandable.

After watching video

Drama activities
Participants stay in teams.
Participants are encouraged to practice prevoius dialogs in pairs/ teams – they play scenes and change roles (dialogues may be shorten if they seem to be too long and complicated to act them out). After these exercices presenter hands cards with random body parts and ilnesses/symptoms cards (Attachment 3) to each group. Teams are asked to write short dialogues with it and play little scenes in the forum.
Presenter makes kind comments when needed. Discussion is welcome.
Sum Up
Sum Up:
Presenter sums up what the group has discussed and learnt during the session. It is time for free questions, too. Presenter introduce the homework.
Voluntary homework task:
Visit the near pharmacy. Tell about your health issue or ask for vitamins. Get a discount cards if possible.